Message from the Director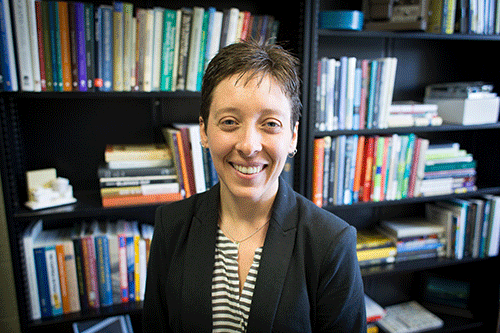 Welcome to the School of Library and Information Science! When I joined the faculty in 2014, I was struck with the collegiality of the staff and faculty and the enthusiasm and dedication of our students. SLIS students, faculty, and staff have always demonstrated a great deal of care and concern for each other and, even as our school grows, we have not lost the sense of community that encouraged me to start my academic career at the University of Iowa.
Over the past few years, SLIS has expanded course offerings and degree programs providing new areas of specialization for students. We are especially excited about the launch of our Undergraduate to Graduate (U2G) program, that allows undergraduate students to begin their Master's of Library and Information Science during their senior year and finish the MA LIS with only one additional year of study. Our online degree option is now open to all SLIS students, affording the opportunity to take classes where you are. The Special Collections Librarianship Certificate prepares students to work in archives and manuscript collections, and those interested in conservation and rare books have opportunities to complete dual degree programs with the University of Iowa Center for the Book. We continue to support our strengths in academic and public librarianship, and offer many opportunities for students to gain practical experience through community-engaged and service-oriented projects. The Teacher Librarian program continues to train educators to lead K-12 school libraries and media centers across the state.
SLIS students and alumni can be found at libraries, archives, and information organizations across the state of Iowa, the Midwest, and the country. Our interdisciplinary faculty and student body represent a community of learners, engaging in scholarship that is meaningful to the communities that we serve. Our faculty remain committed to student-centered experience that emphasizes student success. We look forward to working with you as you earn your degree in Library and Information Science!