Thursday, November 12, 2009
The WiderNet project has received a grant expected to total $1.5 million, which equates to at least two years of work, to develop a disabilities rights portal in the eGranary digital library. This grant will allow a collaboration of various disabilities rights group in the U.S. and around the world to work through a single interface and develop a collection of resources.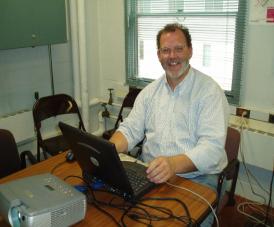 Cliff Missen (WiderNet
Director) demos the eGranary.
"For us it's an experiment on how many librarians can you get to play well together in one space," Missen said.
WiderNet is a nonprofit that works to provide developing countries with computers and non-internet based digital resources.
The eGranary is referred to as "internet in a box". The hard drives can contain two terabytes of information. That means 10 million digital resources. Portals customize access to the resources linking nurses in Zambia, for example, with relevant health sites. This grant will allow for the creation of a new portal focusing on providing resources to those with disabilities.
Missen traveled to Washington D.C. to present on digital libraries recently. He told his Conceptual Foundations class that technological possibilities are changing the way we view access to information.
"The tiniest chips we're working with now are smaller than my fingernail," he said. "Your next librarian job may be at home on a computer and not actually in a building."
The grant is funded by the United States Agency for International Development (USAID). It is expected information specialists from around the world will collaborate on developing the portal for disabilities rights resources.