Thursday, December 26, 2019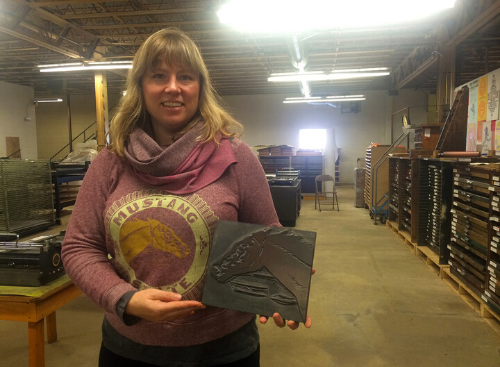 Karina Cutler-Lake is in her sixteenth year teaching Graphic Design at the University of Wisconsin Oshkosh Art Department. The nonlinear path to this career was driven by a love of libraries and archives. "I believe that I would not be an art professor today if I hadn't studied library science at Iowa." Karina has always found solace in libraries. As an undergraduate art major at the University of Minnesota Twin Cities she had a student job in the Kerlan Children's Literature Collection archiving original children's book artwork and publishing ephemera, which introduced her to the mechanics of graphic arts and publishing of the time. She also had an internship at the Minnesota Center for Book Arts where she organized the library. These two experiences led Karina to the School of Library and Information Science at Iowa.
While at SLIS Karina was able to take coursework though the Center for the Book, which she says reconnected her to the visual arts community. She was also able to learn from the artists' books housed in Special Collections as well as the Iowa Women's Archives, where she had a student job. Shortly thereafter she began a part-time job working at the Prairie Lights Bookstore, where she would remain for five years. Perhaps most consequentially, she took an additional part-time position at the University of Iowa Art Library, working under Rijn Templeton, who became an important mentor to her.
While she thoroughly enjoyed working at the library, she still longed to do creative work. "Needless to say, I put way too much effort into designing signage for the library and could too often be caught making little compositions using the library's stamps on newly-discarded catalog cards." While working in the Art Building she became fascinated with what the Graphic Design students were working on under Ab Gratama. Eventually she was accepted into that program, which allowed her to do a significant amount of work in the printmaking area. "With an MA in Library Science and an MFA in Art—and yet another great student position making graphics at Hancher under Ron McClellan—I felt equipped to do any number of things."
"SLIS was a good program for me as it met me where I was, took my interests seriously, and allowed me to pursue my own course of professional discovery, even if my career path led away from the library." Beyond teaching, Karina's professional art and design work has covered a lot of ground, but she says the "library thing" remains a core part of who she is. In the last few years she's found a lot of satisfaction volunteering at the Hamilton Wood Type Museum in Two Rivers, Wisconsin, where she recently organized a substantial donation of antique books on typography and printing. She also works with the local Neenah Historical Society to design signage and promotional materials for the exhibitions that feature their collection.
"Words, images, inquiry, education, expression, information, connection, books, collections, printing, location, documentation…these are some the big concepts that have driven me, whether I'm functioning as a librarian, an archivist, an artist, a designer, a bookseller, or a professor. If I'm feeling unmoored, I visit our campus library as a way to ground myself. It's all connected, and I am forever grateful to the School of Library and Information Science at Iowa for setting this still-evolving career in motion."