Wednesday, January 29, 2020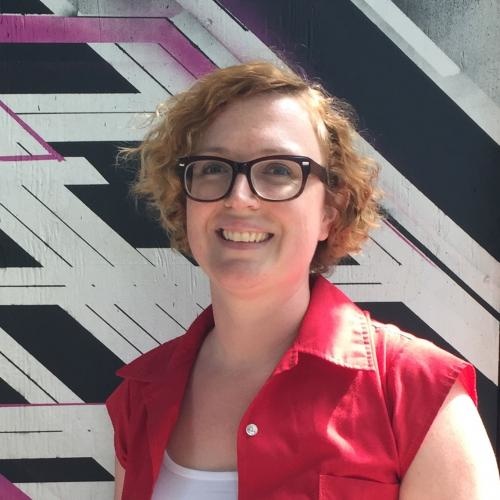 Campus was sleepy as I made my way to the Stewart Memorial Library at Coe College in Cedar Rapids. It was January 2nd, and students were still on their Winter Break. I descended the library stairs to the garden level Media Technologies Department, formerly the A/V Library. Movie posters and spines of DVDs lined the walls. Viewing stations, a microfilm reader, and a virtual reality room dotted the center of the space, and offices were located at the back of the department.  
Laura Riskedahl ('07) sat within her office, mug of coffee in hand, ready to give me a tour of the Media Technologies Department. Laura has been the Media Technologies Librarian (formerly A/V Librarian) at Coe College for the past 11 years. During her time at Coe, she's assisted in the transition to a Learning Commons model within the library and has directed the introduction of a maker studio within her department. She flicked on the switch and pointed out the vinyl cutter, sewing machine, embroidery machine, laser cutter, 3D printers, video editing equipment, 3D scanner, miniature 3D cutters, animation station, and stop-motion set up. Laura's belief in lifelong learning led her to develop hard skills in these new technologies to better serve her students. She's learned how to work the equipment through a combination of YouTube, calling upon the expertise of colleagues and students on campus, and troubleshooting when she encounters issues. Speaking of the maker studio Laura laughed and said, "[It's] something I never thought I'd be doing in LIS!" 
When she first came to SLIS, Laura entered with the intention of becoming an archivist. She had a studio arts undergraduate degree in printmaking and painting from the University of Northern Iowa. After receiving her Bachelor's Degree, she volunteered at the Grout Museum in Waterloo when a woman's entire collection found its way to her for processing. Laura processed the collection chronologically up until the last pieces—the woman's watch and photo that was with her when she died. It was a meaningful experience for Laura, and she drew many parallels to her own life and experiences.  
Thinking back on her time at SLIS, Laura remarked that the, "Opportunities I had because I was a grad student" were some of the most rewarding and enriching. She was a graduate assistant for the Virtual Writing University Live from Prairie Lights series and worked in digital library services for the University. She was also able to convince the staff of the UIMA to take her on as a Registrar Assistant. She highlighted how her undergraduate studio arts skills and skills she learned in SLIS made the perfect pairing for the position that had previously been filled only with graduate students in the arts.  
Laura's background in studio arts, archives, and digital media combined with her dedication to advancing media librarianship has helped her serve her Kohawk patrons in making their own creations and telling their own stories.