Tuesday, September 22, 2020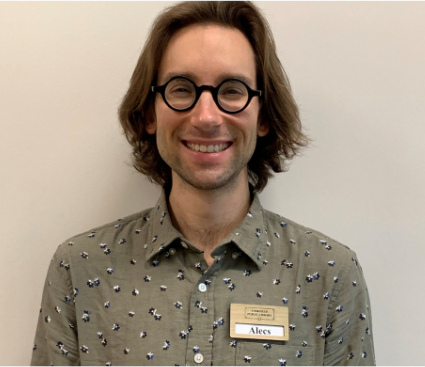 Alecs first developed an interest in librarianship during his time studying Japanese Language and Literature at the University of Iowa for his undergraduate education. The Japanese studies librarian at the time, Chiaki Sakai, helped connect Alecs to resources and offered support during Alecs' time within the program. He further developed an interest in librarianship while teaching English at a rural Japanese school from 2011-2014 through the JET Programme. While there, he developed a friendship with the teacher librarian for the high school. When he returned to the US, Alecs saw several opportunities for East Asian librarianship positions within universities, and he decided to pursue a career in LIS with the initial goal of becoming a research librarian.  
During his time at SLIS, Alecs worked in the electronic serials department of the Main Library, supported the acquisition of Japanese language materials with the Japanese and Korean Studies librarian, and conducted research on the subject of cultural translation as an RA with SLIS Assistant Professor Iulian Vamanu. Alecs received his degree from SLIS in May of 2020. 
Alecs is currently the Youth Services Librarian at Fairfield Public Library in Fairfield, IA. "Although I began my studies in SLIS with the intention of going into research librarianship, I realized that I am happiest when I can be in direct service to the public, particularly to young people." Prior to his time at SLIS, he worked in the Des Moines Public Schools in several different capacities that prepared him for working with elementary-age children. Alecs' grandmother, Edith Czubiak, also served as a youth services librarian in San Jose, California. "In this way I see myself as carrying on a family tradition started by my grandmother." 
This month, Alecs is coordinating an annual event hosted by Fairfield Public Library called When the Lights Go Out. Local volunteers dress as storybook characters and perform for children and families after regular library hours.  
"This year we will be hosting the event virtually for the first time, and I am very excited about the ways that new technologies will enable us translate our library's traditional programming into the current library service paradigm. American libraries today are undergoing an even more fundamental transformation now than the period in which card catalogs were replaced by computerized systems and patrons began relying on the library for access to developing technologies and digital resources. We as librarians cannot know all the changes that are in store for our society or the world in the 21st century but we must always be ready to adapt and be creative, just as we are now called to do in these unprecedented and highly significant times."