Thursday, January 21, 2021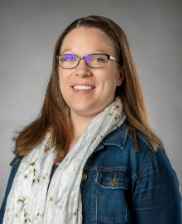 Katherine Walden never intended to receive a degree from the SLIS program at Iowa. Walden came to Iowa in order to complete the MA-Ph.D program in American Studies. For her first teaching assignment as a PhD student, Walden taught undergraduate general education rhetoric courses. Within the rhetoric department, they focused heavily on multimodal composition and digital projects. "At that point librarianship wasn't anywhere on my radar, but as I started to do more with digital pedagogy, I wanted to learn more about what I was doing to be able to use these approaches more effectively in the classroom." In order to do this, Walden decided to pursue the Public Digital Humanities Certificate, which at that time was housed within the SLIS department. From there, SLIS drew Walden in, and instead of simply getting her certificate, she decided to pursue getting a second MA in Library and Information Science "because conventional wisdom absolutely recommends adding a second professional degree program while taking comprehensive exams and starting a dissertation." Walden was able to combine her coursework and experience for both fields of study into creating a PhD dissertation that fit her specific interests of information science, sport studies, American studies, and critical data studies.
Currently, Katherine is an Assistant Teaching Professor of American studies at the University of Notre Dame. Because of her eclectic educational background, Katherine was able to apply for a variety of faculty positions, but ultimately ended up taking the newly created position at Notre Dame. The job posting called for a computational social scientist, but Katherine saw how her SLIS background and experience working in academic technology at Grinnell College equipped her to teach introductory-level courses in computing and elective courses that span computing and liberal arts as well as support, provide leadership, and strategic direction to undergraduate programs at the interface of the liberal arts and computing.
While Katherine may have had a non-traditional path to SLIS, she still feels as though her experience and coursework in SLIS has truly helped her in her professional career. "The type of teaching and curriculum development I do in this newly-created position draws heavily and extensively on my SLIS coursework, and the undergraduate courses I teach are deeply grounded in the critical approaches LIS provides for thinking about information, technology, and power." Katherine would like to express her gratitude to Prof. Lindsay Mattock. "Prof. Mattock's teaching, research, and general awesomeness played a crucial role in helping me make sense of my emerging research interests and professional aspirations."  Katherine's advice for past, current, and future students is to be intuitive and to pay attention to the things that you are both good at and enjoy.