Friday, November 12, 2021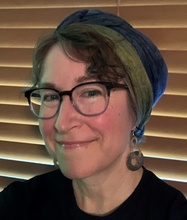 Kelli Brommel is a second year SLIS student. In addition to her studies, she is also the president of
LISSO
, the University of Iowa's student chapter of the American Library Association and a
published poet
. 
Where did you go for undergrad and what was your major? 
I attended the University of Iowa. My BA is in Elementary Education, with a minor in Spanish. I started out with an endorsement on my license for Speech Communication/Theater and later added an endorsement in Reading.
Why did you choose Iowa for library and information science? 
After living several different places around the Midwest, we returned to Iowa City nine years ago. My husband and I own a house on the east side. So, one reason for choosing the University of Iowa was convenience. The more important reason is that, when I spoke to a number of librarians about the LIS programs they attended, Iowa's program rated very high for many of them.
It wasn't a quick step from teaching to librarianship. There were quite a few years between teacher/homeschool supervisor and now. During those years, I taught our kids at home for a few years, then I was a freelance writer when they went to private school in Indiana. I worked a few part time jobs, but mostly I acted as the primary care giver of our household. Our kids are now in college. Emily is a freshman at Kirkwood. She would eventually like to transfer to a college in Ontario that specializes in audio engineering. Noah is in his senior year at Savannah College of Art and Design (SCAD). He's working toward a fine arts photography major, writing minor. It was a tough decision for me to go back to school, even with our empty nest. I've always had an interest in librarianship, from a young age. The more I learn about it, the more I feel like I made the right decision.
Is there a specific area of librarianship that you are interested in pursuing? 
I'm open to working wherever I can find work, honestly, but I am most interested in public librarianship. Ideally, I would either like to work in a small town library where I get to do a variety of things every day or I would like to work in the Des Moines Public Library system. Des Moines is where I grew up and there's still a lot of family living there, but I also see some interesting opportunities coming through on the SLIS job listserv, like Maker Space librarian.
Are you currently working in a library or related organization? 
I just started working at Coralville Public Library. I'm shelving and checking in items. Later I will train to work the circulation and reference desks.
Do you have any recommendations for students interested in getting involved with LISSO?
My suggestion for anyone who is interested in getting involved with LISSO would be to email one of us on the board or to create a discussion post on the ICON site. My email is kelli-brommel@uiowa.edu. I know everyone is busy, but LISSO is whatever we make of it. As a student organization, it will be most successful when we can go forward with ideas people give us about what they're interested in, what kinds of social events they might like, what sort of professional development or guest speakers would be the most helpful.
What are your interests and hobbies outside of class? 
I'm an avid reader, with eclectic interests. I love science fiction, but any kind of fiction is okay. My favorite authors are Barbara Kingsolver, Neil Gaiman, Marge Piercy, Kim Stanley Robinson, Margaret Atwood, Alice Walker, and Toni Morrison. I've been especially wowed by some non-fiction, too, such as Naming Nature, Caste, and Why Fish Don't Exist. Quite often, my reading choices have political or scientific themes.
I like to write, mainly poetry. I've had four poems published. I used to participate in poetry slams at a local coffee shop, before grad school and the pandemic.
My husband and I are empty nesters, but our daughter attends college in Cedar Rapids, so we get to see her a couple times a week. She and I play a game called Wingspan that is overly complicated and related to birds. We love it! When the whole family gets together, I like playing games that make us all laugh, like What Do You Meme? or old school Wii Sports bowling.
I also like cooking, listening to music, walking in the woods, traveling to new places, getting together with friends, keeping up with current events, watching movies at Film Scene, and listening to NPR podcasts. One of these days, I will finally learn to play the ukulele.