Tuesday, December 7, 2021
SLIS staff and faculty are happy to congratulate our fall 2021 graduates! On December 17, three SLIS students received their Masters of Arts in Library and Information Science. Two of these students, Samantha Reid and Alex Larson, shared their experiences in the program with SLIS staff. Read on to learn about what these new grads have planned for their futures in library and information science.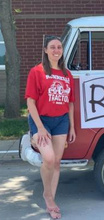 Samantha Reid is graduating from the SLIS teacher librarian program. While in the program, she also completed coursework for her K-12 teaching license and received a scholarship from UI chapter of Beta Phi Mu scholarship. Samantha's career in libraries is already off to a great start; in February 2020 she became the director of the Runnells Community Library in Runnells, IA. She is also a  substitute teacher in West Des Moines and works for the Des Moines Public Library as a professional substitute. She has four awesome kids.
When asked about her favorite course in SLIS, Samantha said that she enjoyed Cultural Foundations. "I loved learning about the history of libraries and librarianship. That course was a great way to start the program and got me excited about the field. More than anything else, that enthusiasm for libraries and the ways they help their communities kept me motivated during the past two weird years!"
Samantha says that she is looking forward to the next steps in her career, whether that be in public or school libraries.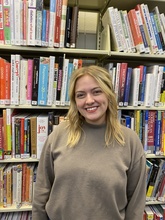 Alex Larson currently works at the Pleasant Hill Public Library, where she plans to continue working following graduation while searching for a full-time position. She is excited to use the knowledge she has gained from the SLIS program in her career.
When asked about her favorite course in the program, Alex had difficulty deciding. "We are blessed with amazing courses and instructors in SLIS," she said, "so this is a very tough question. I have really enjoyed taking Public Libraries with Kara Logsden this semester. It has been extremely relevant and applicable to my work in a public library!"