Wednesday, September 14, 2022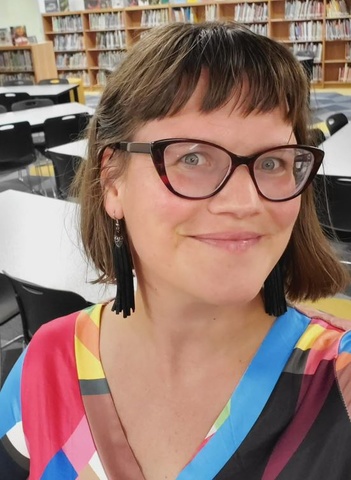 The SLIS team is excited to welcome Jackie Biger as the newest full-time faculty member. Jackie joined the team in early august, coming from a background of both library and high education administration experience. She will be taking on the roles of Associate Professor and Program Coordinator for the Teacher Librarian MA program. Jackie is a University of Iowa undergrad alum and received her MLIS from Simmons University. After spending time working in libraries on the East Coast, Jackie returned to Iowa in 2010 and joined the admissions team at the UI School of Urban and Regional Planning (now the School of Planning and Public Affairs). While working in admissions, Jackie earned her Master of Arts in Teaching from the UI College of Education. Before joining the SLIS faculty, she used her MLIS and MAT degrees as a teacher librarian at Clear Creek Amana and Helen Lemme Elementary School. 
Jackie reflected on the current challenges and opportunities facing teacher librarians in Iowa when asked why she was interested in this position. "I was very interested in this role because librarianship, and school librarianship, in Iowa is at a very critical point," she stated, "I felt this was an opportunity for me to positively impact conversations around librarianship in Iowa while also practically helping people be prepared for the job. I was really thrilled with the idea of being able to mesh teaching librarianship, my experience, and being a champion for teacher librarians." Her experience earning separate MLIS and MAT degrees has helped her to understand the value of training in both education and librarianship for school librarians. "When I just had my master's degree in library science, I was very angry that I couldn't just become a school librarian." She notes that going through the UI Master's in Teaching program made her understand the "incredible amount of work that goes into being a really good, thoughtful teacher." She hopes to use her new position to give SLIS students a solid grounding in both educational theory and the practical aspects of running a library, noting that "you have to be trained in both to be a stellar teacher librarian." 
Jackie notes that the Teacher Librarian Program is also an opportunity for students to prepare to have the difficult conversations involved in school librarianship. Those conversations can be daunting for new librarians, but Jackie says that "the more times you run into it, the less scary it gets." She encourages students to be prepared to treat these conservations as discourse. "It's about dialogue and being ready to have those conversations and to hear somebody's anger or their need to disrupt and shift it into having a new conversation."   
As the Teacher Librarian Program Coordinator, Jackie will be the advisor for all students in the program and work closely with the School of Education to ensure that they are meeting requirements for their Iowa teacher licenses. She hopes to be a confidant for these students, noting that "I am here to help in any way along this path of getting certification." She will also take an active role in field work, traveling to schools across Iowa to supervise the practicums in elementary and secondary schools that students must complete to graduate from the teacher librarian program.   
While the Teacher Librarian program is focused on training K-12 educators, Jackie encourages students to see the value of the training for all areas of librarianship, saying that she is "a strong believer in competencies that can apply in different situations." She thinks that all SLIS students can benefit from the literacy education theory taught in teacher librarianship courses like Literacy and Learning, while students in the teacher librarian program benefit from core classes that cover other aspects of librarianship. By giving all SLIS students the core education of an MA in Library Science, Jackie says "if you want to change your life's trajectory or change your career course, you have the degree, and this is about learning how to apply it in different situations." 
When asked if she has any advice for current students in the teacher librarian program, Jackie acknowledges that many students face unique challenges because they already work full time. She notes that her own experience returning to grad school while working full time and caring for a family felt "like juggling different identities." She wants students to know that these challenges will be worth it "because when you come through this program you will be prepared for things and prepared for conversations in ways that you may not expect in the moment. You will be so thankful that you had this professional preparation and this time to dig in deep and think about the theories and how things might come to be."