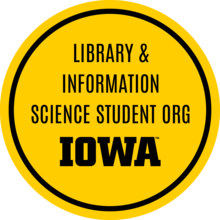 WELCOME TO LISSO:
The University of Iowa Student Chapter
of the American Library Association
You are a LISSO member, dues free, as an accepted student of the School of Library and Information Science, and are invited to attend any meetings and associated functions.
---
About LISSO
LISSO's Purpose (from Article 1 of the Constitution):
1. Facilitate and encourage participation in the American Library Association (ALA) and the Iowa Library Association (ILA), work to promote scholarly achievement and professional awareness among its members, and promote active, imaginative research in the field of Library and Information Science. 

2. Increase awareness and use of the resources provided by the ALA to its members, as well as those provided by the University of Iowa and the School of Library and Information Science. 

3. Provide a local forum for the exchange of ideas and information about trends, issues, and opportunities in the profession. 

4. Promote involvement in professional activities beyond the classroom. 

5. Develop skills and relationships that will enable students to have a creative impact within the profession.

6. Promote fellowship between SLIS students through social activities and events.
---
About Your Officers
President: Kellee Forkenbrock (she/her) is the LISSO President. She works at North Liberty Library as the Public Services Librarian and writes/blogs under the pseudonym Eliza David.
Secretary: Hannah Beebe (they/them) is the LISSO secretary. They are preparing for a career in community college librarianship and are always down for a chat in the student lounge!
Treasurer: Zoe Murphy (she/her) is a second year MLIS student concentration on Public and Teen Librarianship. When not studying, she can be found in the theatre!
Social Chair: Emma Barton-Norris (she/they) is the social chair. She loves all things old and can be found rummaging through new collections at the Iowa Womens' Archives. 
---
 LISSO is accessible on several online platforms:
Make sure you are added to the ICON site to keep up to date on LISSO events and SLIS student hang outs!