Sunday, February 13, 2022
For many students entering library and information science programs, their goal is to pursue a career in public or academic libraries. While positions other kinds of libraries may be considered, one option that is often overlooked is prison librarianship. This is the role that SLIS alum Caroline Hogan discovered.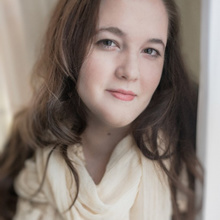 Initially interested in rare books and special collections, Caroline completed the combined MA and Book Studies Certificate program. While in SLIS, Caroline worked at the Hardin Library for Health Sciences as a Student Reference Assistant and Student Specialist in the John Martin Rare Book Room. After graduating from SLIS in 2018, she spent a year working at the Coralville Public Library as a Reference Librarian.  
Caroline says that she learned about prison libraries in her Cultural Foundations course. She had also volunteered at a prison during her undergraduate studies, which led to an interest in prison reform and social justice. When she saw a job opening for a Corrections Librarian in Lincoln, Nebraska, she knew that it would be a good opportunity to move closer to family and make a positive impact with her librarianship skills.  
As a Corrections Librarian, Caroline says that her work involves "a little bit of everything." In a typical day, she purchases new collections materials, answers reference questions, fixes catalog errors, and oversees six inmates who work on shelving and checkouts. She is responsible for overseeing both the prison's recreational library and law library. She notes that the most important part of her job is being able to provide inmates with reliable access to information, both for personal and legal use. While the COVID-19 pandemic has created new challenges, such as understaffing and increased lockdowns, Caroline notes that she enjoys her job and has developed a good rapport with the inmates she works with. 
For current SLIS students interested in prison librarianship, Caroline says to consider that "you're basically a small library director." She notes that it is important to have skills in collection development, cataloging, user surveys, and grant writing. "It's good to have some public library experience," she says, "You're dealing with some difficult patrons either way; you have to be able to work with people." While she knows that this field of librarianship might not be for everyone, she encourage SLIS students to keep it on their radar as an opportunity to provide an important service.