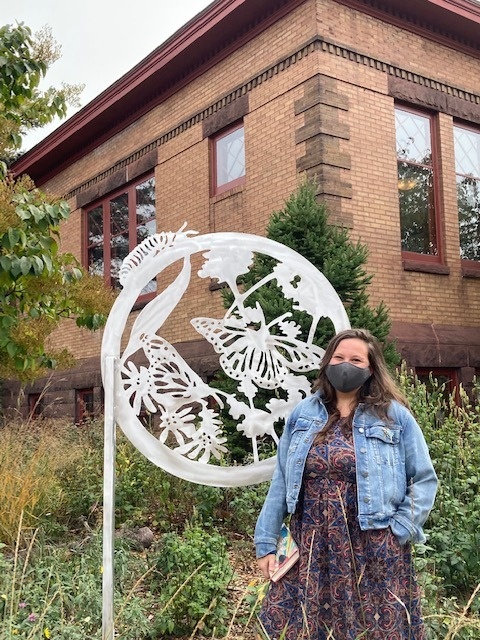 SLIS alum Madeline Jarvis knew early on that she wanted to have a career in public libraries. After graduating from Northland College in 2013 with a degree in Humanities and Sustainable Community Development, she decided to enroll in the University of Iowa School of Library Science. "I wanted to be in a program where I could help communities thrive," Madeline says of her decision to pursue graduate education in library science, "Public libraries are really that last great public space where people can gather, explore, and ask." She cites her aunt, SLIS alum Susan Poulter, as the reason she decided to continue her education at the University of Iowa. 
While in SLIS, Madeline embraced professional development opportunities in addition to her coursework. She worked at the on-campus Hardin Library as a reference assistant and completed a practicum at the Ely Public Library. "Taking a practicum is crucial," Madeline advises, "because it gives you the guidance and perspective to ask questions as well as those hands-on skills." She recommends that current SLIS students use their practicums as a "fitting room" to try on different aspects of library work. Her favorite coursework involved readers advisory. She says that she still thinks about those lessons when managing collections as a library professional. One important collection development takeaway from her time in public libraries is that "every public library needs a story time and a large-print western section." 
After graduating from SLIS, Madeline went on to work at the Marion Public Library in adult services and programming. In 2021 she and her husband began discussing moving to Minnesota. Through the Metronet Jobline she discovered an opening for a director at the Two Harbors Public Library. After interviewing over the summer, she was offered the job and moved in October 2021 to begin her new role. 
While Madeline has only been in this role for half a year, she has already made a significant impact on the Two Harbors Public Library's strategic planning. With community input and approval from the library's board of trustees, Madeline updated the two years out-of-date strategic plan and created a robust new vision that focuses on the role of the library as the community's anchor, sail, and lighthouse. Another important, if unexpected, focus of Madeline's job has been building maintenance. The Two Harbors Public Library is housed in an original Carnegie building, and Madeline notes that extra maintenance steps are required to preserve this historic legacy.  
When asked if she had any advice for SLIS students, Madeline's biggest suggestion was to ask questions. "A lot of my growth was because I asked questions. Know that you're a part of the conversation, a part of the discovery. Reach out to librarians, even if just an email. Trust yourself and recognize that every path is different, and every community is different. You know what you want and where you can make a difference. You don't need to compare yourself to others."