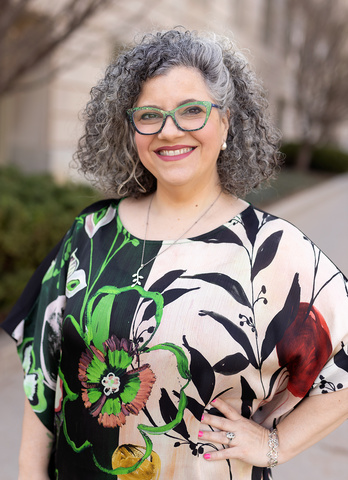 Welcome to the University of Iowa's School of Library & Information Science, where we value inquiry, community, and the knowledge and connections that result from their practice; values I see in the daily teaching and research efforts of our faculty and staff here at SLIS. As a former classroom teacher and school librarian, I hold to SLIS's foundational belief that the relationship between research and practice is crucial to growth, innovation, and strength. I strive to live out these values in my own research, investigating school librarianship for historically underrepresented populations with a focus on first-generation immigrants and LGBTQIA+, instructional partnerships between school librarians and other educators, technology-integrated learning, and the design and development of culturally inclusive digital learning environments - all efforts completed in partnership with students, classroom teachers, and librarians.  
A distinctive aspect of our School is its focus on librarianship.  Before coming to SLIS our faculty worked as librarians, curators, and other roles that preserve and create access to ideas and information. This means that our instruction is informed by practice as well as research.  We value instruction and are proud that our publications share our knowledge with a wider community of faculty and researchers, winning grants and awards for our scholarly contributions.  Importantly, we have a strong record of community-engaged learning that gives students experience with some of the tasks and objectives that are part of librarianship.  
In recent years, SLIS has expanded course offerings and degree programs into new specializations for students. We are especially excited about our Undergraduate to Graduate (U2G) program that allows undergraduate students to begin their graduate coursework during their senior year and finish the MA in LIS with only one additional year of study. Our online degree option is open to all SLIS students, so you can take classes wherever you are. The Special Collections Librarianship Certificate prepares students to work in archives and manuscript collections, and those interested in conservation and the material book can complete dual degree programs with the University of Iowa Center for the Book. We continue to support our strengths in academic and public librarianship, and our Teacher Librarian program continues to train educators to lead K-12 school libraries and media centers across Iowa.
The School's alumni work as public library directors and youth services librarians in Iowa and beyond, serving communities by providing innovative services and resources.  Our recent graduates have become a conservator at the Library of Congress, digital humanities specialists at the UI Libraries, and curators at other institutions in the U.S. and Canada, where they ensure, in innovative ways, continued access to old and new media.  Cataloging and collection development specialists are other professional paths followed by our graduates.  Instructional librarians, medical and legal librarians, and librarians for those who are imprisoned are further examples of the work done by SLIS graduates.  Even this list doesn't encompass the entirety of work done by our alumni or what you could do with our ALA-accredited master's degree. 
We invite you to learn more about our program.  We welcome the opportunity to talk with you about your interests in serving others through the outreach and instruction that characterizes our profession in the twenty-first century.  If librarianship is part of your future, SLIS at the University of Iowa is, too.
Dr. Lucy Santos Green
Professor and Director
School of Library and Information Science