Thursday, September 9, 2021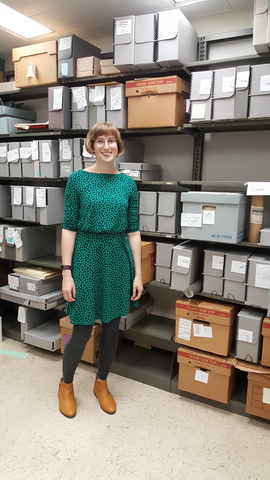 SLIS alum Anna Holland didn't have to go far to find a satisfying library career. As a processing archivist for the Iowa Women's Archives, she spends her workdays down the hall from SLIS classrooms and offices. Her current position follows a three-year graduate assistantship at IWA, which she held while in the joint MA and book arts certificate program provided by SLIS and the UI Center for the Book. Before coming to the University of Iowa, Anna obtained a BA in history from Augustana College in Rock Island, IL and spent time working in public and community college libraries.
As a processing archivist, Anna's primary responsibilities involve facilitating the arrangement and description of donated collections. Each day she gets to interact with items that tell the stories of Iowa women, from political campaign materials to the diaries of rural women. When asked if she had a favorite item in the archives, it was difficult to choose. "I feel like I have a new favorite item everyday," she stated, "and it's usually what I'm processing." She did note that she particularly enjoys the IWA's collection of political buttons, which include "sassy, feminist slogans" from the 70s and 80s.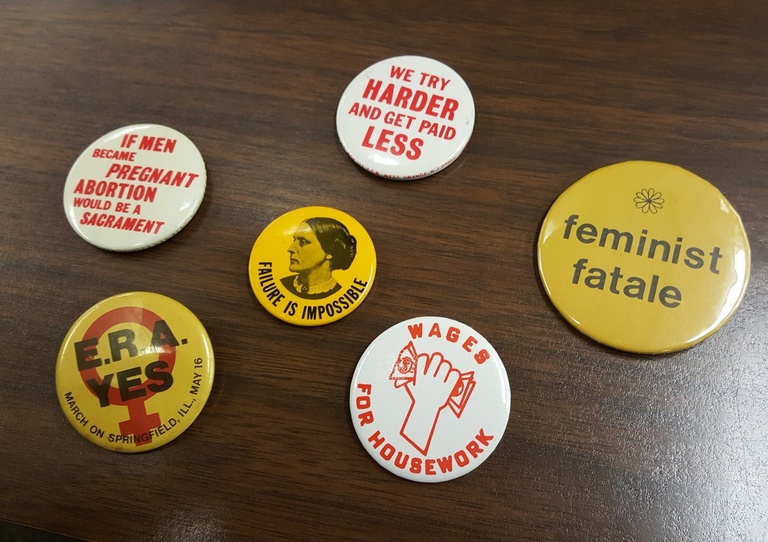 In addition to her processing responsibilities, Anna also works closely with students and patrons. On an average day, she works with two to three student employees, helping them to develop archival processing skills of their own. She also covers the IWA reference desk and contributes to the archive's social media accounts. When asked about her favorite part of the job, she said, "It is really satisfying when someone comes in who has never used the archives before and I can help them feel comfortable coming in here and requesting materials. I always like it when people find what they're looking for or something that opens a new way of thinking about what they've been studying."
Her advice for students interested in archival work is to take advantage of both relevant courses and hands-on opportunities like internships and practicums. "Like all of librarianship, being good at your job and being ready to do your job is a combination of coursework and practical experience." She also advises visiting archives and speaking to professionals working in the field. "People are predisposed to help you out," she said, recounting some of her own experience speaking with archivists during library visits. For SLIS students, a visit to the Iowa Women's Archives is an excellent place to start.