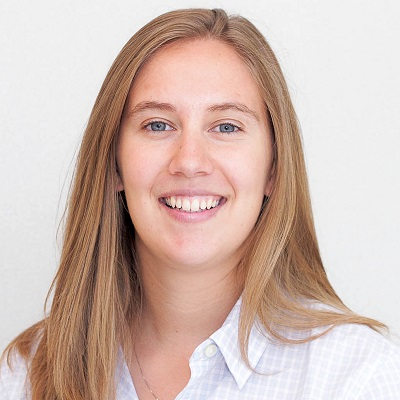 For SLIS alum Samantha Bouwers ('12), a career in libraries was the result of a "bit of a whim." After graduating from University of Iowa's undergraduate journalism program, Samantha found that newspaper writing left her feeling burnt out. Trying to figure out a new professional path, she thought back to the reporting she had done on the UI Graduate College, specifically on projects at SLIS. She thought, "well those librarians were sure nice, maybe they'd take me," and decided to apply to the master's program. She says that she realized from the first day of orientation that librarianship was the perfect fit. 
As a SLIS student, Samantha stayed active both on campus and in professional development opportunities. She participated in LISSO and B Sides and was a student member in multiple professional associations. Her first experience with library work involved digitizing photos from the FW Kent collection in UI Special Collections. She also worked at WiderNet (now based in Durham, NC) before becoming a Teaching Assistant under Dr. Jim Elmborg for an undergraduate class called "Information Handling." Her practicum course gave her experience working at a small academic, theological library. 
When asked about her favorite SLIS courses, Samantha cites a course taught by Dr. Elmborg called "Analysis of Scholarly Domains." The class provided a "a primer on how to think about how various disciplines generate, disseminate, digest, and critique new information in their field. This has been invaluable for me in being in small-shop libraries. I never know what field I'm going to be engaging with next, so having a broad understanding of the ways that information comes and goes, evolves and grows, is so important." Samantha also appreciated the skills she learned in Database Design and the introduction to librarianship provided by Cultural Foundations. 
After graduation, Samantha pursued a "a mixed bag" of opportunities. "I started in an academic library doing reference and instruction before moving to a specialized, corporate library where I did a little of everything: embedded reference, collection management, tech services, archives… perks (?) of being part of a small shop." In 2019, she began her role at the State Library of Iowa. In this role she coordinates the continuing education that the State Library offers to public Librarians throughout Iowa. She loves that this position allows her to be "a sort of librarian to librarians; advising on what resources will be valuable to tackle challenges, changes, and trends in librarianship." She also notes that she enjoys visiting libraries across the state. "Recently, I've seen a Dutch language collection, the best storytime room imaginable, and some pretty darn cool third spaces for all ages. We also just held a really fun conference with about 170 Youth Services librarians from around the state. It was a treat to be at an in-person conference hearing about all the top-notch stuff our librarians are up to." 
When asked if she has advice for current SLIS students, Samantha says to read widely. "The reading assignments can be a slog, but you'll never have more time than you do now to explore new ideas."