Thursday, October 6, 2022
Nick Beattie is a second year SLIS student pursuing his MA in Library and Information Science and a certificate in Special Collections Librarianship. He holds a BA in Near Eastern Archeology and Art History from Wheaton College. This summer he was able to combine his undergraduate experience with art history and his studies at SLIS to complete an internship at the National Gallery of Art in Washington, DC. 
Nick's work at the National Gallery involved digitizing nearly 600 photos from the Francis Bedford photography collection. Along with scanning the photos and performing quality control adjustments, Nick was also responsible for updating the metadata for each photo. This metadata work involved doing research into the subjects of the photographs. Bedford's photos typically feature architecture from his travels, so identifying key architectural features was an important aspect of this research. Nick notes that one of the most enjoyable parts of the project was using the captions on Bedford's photos to map his travels over time.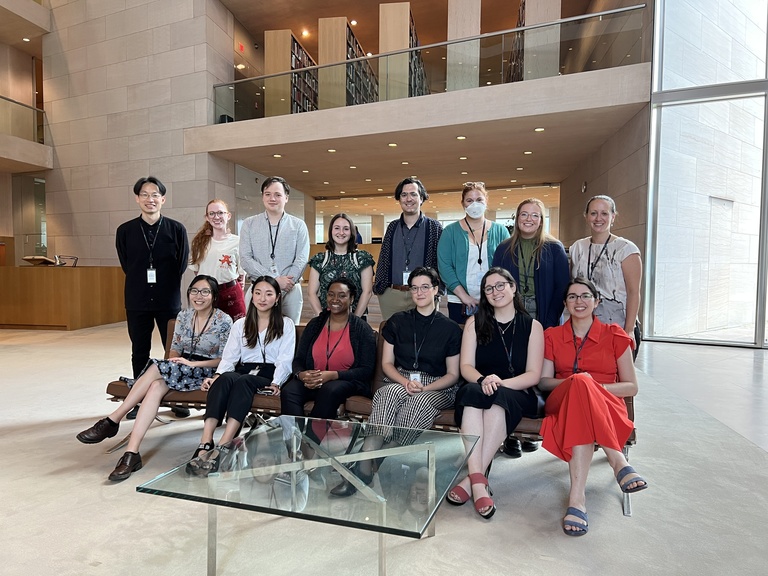 In addition to the hands on work of the project, Nick appreciated the opportunity the program provided to engage with fellow interns and learn about different areas of museum work. The program included weekly "intern sessions" that involved staff members from the National Gallery teaching the interns about the work done in their departments. In addition to being an educational experience, these talks also allowed Nick to get to know interns working in other departments. According to Nick, the interns were able to create a sense of community outside of work that built on these shared experiences: "We would hang out and check out other museums in the area. It was nice to have other people to hang out with in a new city."
The internship culminated in a public programming experience. Each intern had the opportunity to write and deliver a presentation on one of the works on display at the gallery. "I had a lot of people come watch it," Nick said of his presentation on The Sacrament of the Last Supper by Salvador Dali, "It was a great opportunity to engage with visitors of the museum."
While Nick had not considered a career in museums before this internship, he notes that the experience has made him more open to actively searching for museum jobs in addition to positions at libraries. "I'm starting to realize that as a library science student I don't have to always be working in a library setting to be able to use the skills that I've learned in coursework. Being able to be creative and marketable is always important."