This semester two SLIS students received the University of Iowa Libraries Academic Enrichment Award. This award is given annually to two University of Iowa graduate students employed by the University Libraries. Students are selected based on an essay application and ratings from library supervisors. This year Nancy Henke and Paige Wilkinson were the recipients of the award. Nancy is a second-year SLIS student in the Online MA program who works as a Student Specialist in the libraries' Research Data Services department. Paige is a second-year SLIS student pursuing an On Campus MA and a certificate in Special Collections Librarianship. As part of their award recognition both responded to questions provided by University of Iowa Libraries staff. Read their responses below to learn more about their work and how it connects to their SLIS education.
Nancy Henke
Where are you from (hometown city/state) and what is your current area of study? 
I grew up in Boise, Idaho and currently live in Fort Collins, Colorado. I'm an online student working on my Master of Arts in Library and Information Science. 
How has your work at the Libraries helped you develop important professional skills? How might you use those skills in your future career? 
My coursework in the School of Library and Information Science helped spark a passion for open access, and my work in Research Data Services at the Libraries has enriched that interest and helped me action on it. I'm supporting open science by developing materials that help researchers do things like share and document their code, create data management plans, and use repositories. I think these skills will be invaluable in my future career since knowing the how of the open movement – how libraries and librarians facilitate information sharing and access – is just as important as knowing why it's worth doing in the first place.  
Has there been anything that surprised you about working in a library? 
I'm constantly surprised to learn about what libraries do that I never knew about before I enrolled at the University of Iowa – like hosting an institutional repository where faculty, staff, and students can deposit their own research or creative works so they're preserved and accessible, or having library liaisons for various cultural centers on campus so students have a personal connection to library resources. If someone thinks libraries are just about books and research databases and study spaces, they're definitely mistaken.     
Paige Wilkinson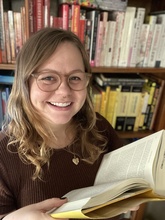 Where are you from (hometown city/state) and what is your current area of study?
I am from Woodward, Iowa, and am a current SLIS Special Collections graduate student and hopeful MFA student at UICB.
How has your work at the Libraries helped you develop important professional skills? How might you use those skills in your future career? 
I began working for the Conservation and Collections Care department in March 2022, after a brief internship in conservation at the State Historical Society. It was through this internship that I first became acquainted with the folks at the UI conservation lab and instantly felt a connection and a desire to continue working with this team. Since beginning, I have gained a wealth of knowledge from my colleagues regarding conservation treatment best practices, paper and book mending, and constructing enclosures for special collection materials.  
I have been so fortunate to learn under such experienced and brilliant conservators and work with a rather vast and unique collection. Prior to this position, I knew I wanted to work in library special collections but was unsure in what capacity. I had only a basic understanding of conservation work, and I have now found a career path that marries my love of lifetime learning and history with a craft that utilizes my delight in working with my hands. It is the perfect blend of creating and learning that makes me excited to continue my work. 
Not only do I love the work itself, but the methods in which my superiors instruct and guide have greatly influenced both my leadership style and desire to instruct others. There is a very positive and encouraging nature in the lab for students to try different approaches and learn from mistakes. I feel incredibly respected and valued by my team, and this is an environment that I want to build in my future career placement. 
I am have also returned to the State Historical Society to lead an internship program where I can teach the conservation methods I've learned during my time at the UI lab. I utilize similar teaching approaches that are used at the university. There is a saying in conservation: see one, do one, teach one, modify one. This paradigm has led me to be very confident in my construction methods for enclosures and is a style I want to encourage in my future workplaces. 
I've also been fortunate enough to work with additional professionals in our library from other departments (e.g., digitization, reading room, processing, and circulating collections care folks), and have been able to collaborate with them in order to assess our collection materials and prioritize treatment. It has been a fully immersive position and working with other types of library professionals has further solidified, for me, that library conservation work is the career path on which I want to continue. 
Has there been anything that surprised you about working in a library?
It has been heartening to see how crucial it is for cross-departmental collaboration and communication to best meet the needs of our students and patrons. I love being in the reading room and hearing undergraduates who have been sent there to research for a course project--something that didn't happen for me when I was an undergraduate at this university. I love hearing the excitement as they explore their access to our special collections. I am hopeful that the university will continue utilizing our unique physical collection on campus to teach students and get them excited about whatever subject matter they are studying through these resources and it is an honor to care for them as physical objects.